Amazon Connect may not have a default voice mail option, but with Voxologic's Amazon Connect Voice Mail solution, that's no longer a problem!
Launched to provide voice mail feature for our customers, this solution puts the control of the recording right in your hands! No longer is there a need to transfer the call to a third party provider – our solution extends the Connect capability and is built right in the Amazon ecosystem.
I am Interested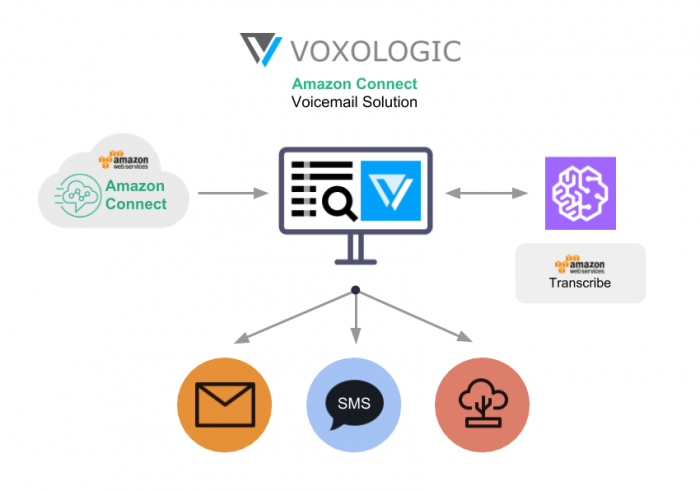 How does Voxologic's Amazon Connect Voicemail solution work?
With Amazon Connect Voice Mail, gone are the days of tricky hacks and workarounds to achieve voicemail functionality. Our native solution integrates right into your Amazon Connect, so your Amazon Connect contact flows is in charge! Your voice recordings will be based and configured for queues, personal agent voicemails or your own business logic – whatever you want goes!
Need your customers to leave a voicemail? They'll immediately be processed and delivered to the respective channels – this currently includes email, SMS and API delivery methods, plus a web portal to manage voicemails.
Oh, and Amazon Transcribe allows your voice mails to be automatically converted into text, so you can set up criteria based on a specific text or caller, and initiate the next steps in your workflow.
All of this in one sophisticated and easy-to-use interface.
Voxologic Connect Supervisor
A portal to view and manage your voicemails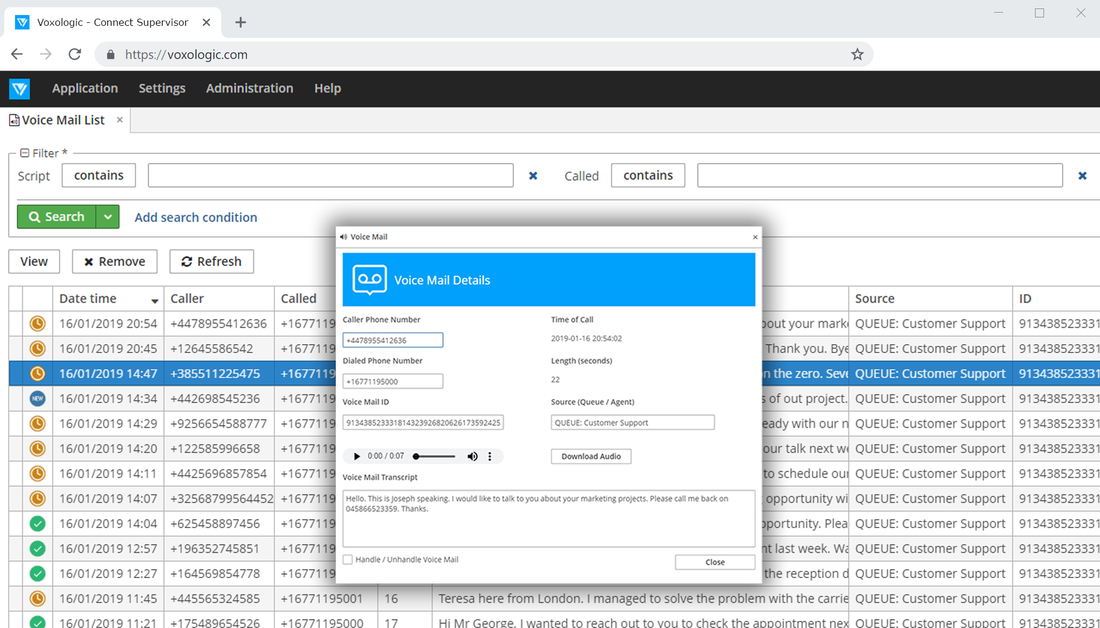 The Voicemail Solution
for Amazon Connect
See all the benefits of our solution compared to 3rd party voicemail providers. In general we don't have to explain how important is the availability of a proper and scalable voicemail solution that tied together within your system.
In today's world visibility and privacy protection is also a concern. Keeping this in mind storing all the voicemail recordings in your cloud ecosystem is a way to step forward to a successful data protection initiative.
The significance of a functional and scalable voicemail solution that ties in together within your system is quite apparent. And given the concerns of privacy protection, you and your organization need a successful data initiative. Amazon Connect Voicemail is the way forward to that, as it stores your voicemail recordings in your cloud ecosystem.
Are you interested?
Send us your details and we will get back to you!